4 bills that will help create healthier minds across the lifespan for Coloradans
May 14, 2021
By: Vincent Atchity, President & CEO, Mental Health Colorado
Originally posted on Biz Journals
Winston Churchill famously observed that "healthy citizens are the greatest asset any country can have." What we know and must not forget is that there is no health without mental health — mind and body are inextricable from one another.
From before birth and well into old age, the health of our minds is key if we are to thrive. Mental Health Colorado defines seven goals for creating healthier minds across the lifespan.
A strong start for all children
We develop brains and behaviors at a rapid pace, not fully maturing until as late as our mid-20s. Preventative care and healthy learning environments ensure healthy minds and bright futures.
We know that children will be deeply affected by the trauma of the pandemic. Mental Health Colorado worked to pass HB21-1161, which suspends state assessments in the 2020-21 school year so that returning students and teachers in certain grades have time to get back into action together without being driven by the pressure and timetable of standardized testing.
Support for families
Strong, healthy families make for strong, healthy individuals. HB21-1068 requires health plans to cover annual mental wellness exams. This bill puts us a step closer to being attentive to our changing mental health needs in the same way that we attend to our physical health needs.
Access to housing, support and services
What would your mental health be like today if you didn't know where you were spending the night? Having a home is an essential element of good mental health across the lifespan. Additionally, access to support and services prolongs life and enhances mental health outcomes.
We must be sure that all Coloradans have access to care as our communities and economies recover from the pandemic. HB21-1021 bolsters the mental health workforce to ensure Coloradans aren't going without care.
Wellness in aging
From childhood to old age, the quality of our lives depends on our mental health. Every phase of life brings its own challenges and opportunities for continuing mental growth and development. A healthy mind could be the key to longevity. A Yale study on aging found that seniors with a positive view of their lives lived an average of 7.5 years longer than those with more negative views.
Reduced potential harm from drugs and alcohol
Drugs and alcohol have been a part of our landscape throughout history. From childhood onward, we thrive if we can reap the life-enhancing benefits of potent substances while reducing their potential for great harm. These times of high stress and isolation leave us more vulnerable than ever to the potential harm of drugs and alcohol.
According to the Colorado Health Institute (CHI), there have been 443 recorded overdose deaths from January to April 2020 in Colorado. This represents a 35% increase from the same time period in 2019. According to CHI, "The starkest difference can be seen for both March and April — the first few months of the Covid-19 lockdown." Colorado needs to be equally prepared to deal with the secondary health impacts from the pandemic: increased mental health and substance use needs in our communities. We must protect existing funding for mental health and substance use care, instead of cutting needed funding.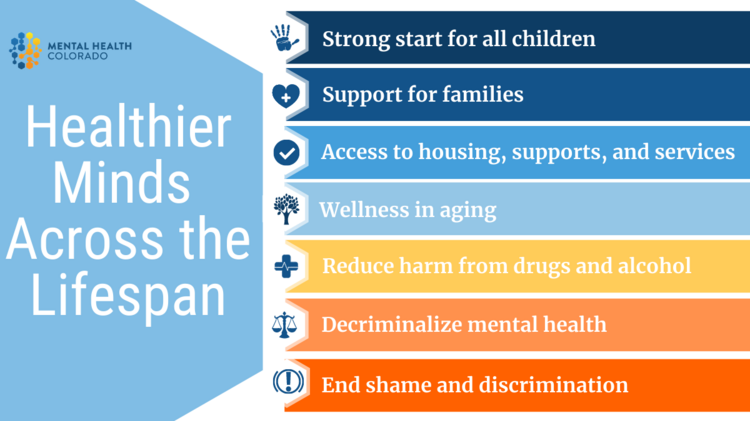 Decriminalize mental health
As many of those working in law enforcement understand more clearly than most, the criminal justice system is our first and only — and, I believe, completely inappropriate, ineffective, and costly—response to people's need for mental health and substance use care. Building health care capacity and supportive housing so that we can disentangle mental health and criminal justice will improve health outcomes, save taxpayer dollars, and enhance community well-being.
Mental Health Colorado is working to pass HB 21-1085, which will strengthen our health care system by providing a transportation alternative for people in a mental health crisis. People who need health care shouldn't be transported in handcuffs by a patrol car, and lights and sirens from ambulances can exacerbate a mental health crisis. This more cost-efficient transportation alternative will free up ambulances and emergency rooms currently used for individuals in a mental health crisis.
End shame and discrimination
We need to be increasingly understanding and compassionate with ourselves and others when it comes to our mental health. The shame of talking about mental health has taken a notable shift during this pandemic. It's not as uncommon now to ask a coworker about their mental health or to FaceTime someone just to admit you're feeling lonely or anxious. These are behaviors we should continue long after this crisis passes.
There still are many uncertainties right now, but what we do know is that all Coloradans — and everyone in the world — now have a much keener understanding of the vital way in which our mental and our physical health are connected.
Through all seasons of life, we need each other's support to do well. So, remember to breathe. Focus on what you can control. And don't miss any chance to practice active kindness.
Learn more or support our work at mentalhealthcolorado.org.
Mental Health Colorado is one of the state's leading advocate for promoting mental well-being, ending shame and discrimination, and ensuring equitable access to mental health and substance use care. We are a nonprofit, nonpartisan organization and affiliate of Mental Health America.
---